Improving Smiles, Improving Lives
"I feel truly blessed and grateful to be able to serve the children and adults in our community. Being an orthodontist is about having a direct, lasting, and positive impact on a person's life.
"It's amazing to see a person's genuine smile take shape and witness the changes in their personality as a result. With healthy, straight teeth and a great smile, a person's self-esteem improves and confidence blossoms. As patients move through care, and see their new smile develop, they become more comfortable and outgoing. By the end, they're smiling and laughing with our team, their fellow patients, and their peers.
"Those new smiles are going to serve each person well, for a lifetime! I cannot imagine doing anything more rewarding!" — Dr. David Mouritsen
Dr. Mouritsen and family
Education and Commitment to Continuing Education
Dr. Mouritsen graduated magna cum laude with a bachelor's degree in computer science, with minors in mathematics and physics, from Brigham Young University.
Dr. Mouritsen finished a three-year residency in orthodontics at the University of Alabama at Birmingham. There he completed his Master of Science and earned a certificate in orthodontics.
A recipient of the Charley Schultz Resident Scholar Award, Dr. Mouritsen presented research at the annual meeting of the American Association of Orthodontists in 2012. He was recognized for the originality, validity, and usefulness of his research.
Dr. Mouritsen is a Diplomate of the American Board of Orthodontics. A board-certified orthodontist is "an orthodontist who has voluntarily gone through hundreds of additional hours of preparation to demonstrate their judgment, skills, and knowledge … for providing the highest level of patient care." To become a board-certified orthodontist, Dr. Mouritsen has passed rigorous, extensive written and oral examinations, and presented cases he has handled before ABO examiners. He is committed to the highest standards of excellence in orthodontics.
Dr. Mouritsen enjoys staying up to date with the latest orthodontic developments and technology. He avidly reads peer-reviewed scientific journals and participates in study clubs and meetings. He's also a member of the American Association of Orthodontists, the American Dental Association, and the Texas Dental Association.
Personal Life
Dr. Mouritsen's father was an officer in the U.S. Navy. As a child, he lived in many states, as well as three years abroad in Madrid, Spain. He also served a two-year mission in Buenos Aires, Argentina. He is fluent in Spanish, which benefits many patients.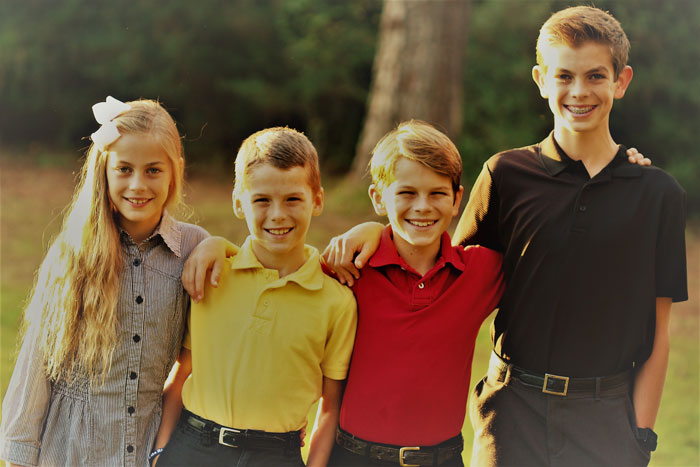 When he's not working, Dr. Mouritsen enjoys time with his wife Lauren and four energetic children: Anders, Hyrum, Jedidiah, and Julie. The family loves jogging with their Golden Retrievers, biking, playing soccer, and swimming. The doctor and his family are involved in their community and church.